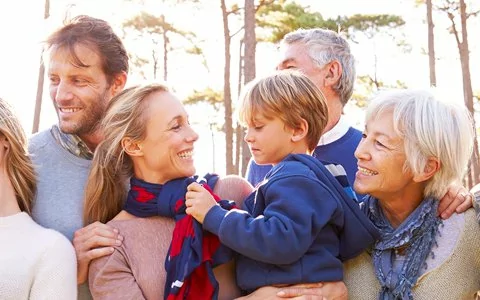 Who in your family needs caring general dentistry? At Nixa Smiles, we are happy to see patients from babies to great-grandparents. Dr. Dove is experienced at meeting the unique needs of each age group and background. You'll get the care you need at Nixa Smiles. 
Our family dentistry services are focused first on excellent dental and oral health. We'll work to prevent cavities and fillings. We can even give you advice on foods and other choices you can make to protect your teeth and gums at home.
Your dentists are fully trained and equipped to take care of your general dental needs right here in Nixa, without sending you off to specialists. Call us at Nixa Smiles now to schedule an appointment—or several appointments for you and your family members!
What Family Dentistry Services Are Available?
Our team at Nixa Smiles wants to help give you a smile that is as healthy as it is happy. To do that, we have a wide selection of services to cover your dental needs. 
Adult Dental Examinations
Comprehensive Exam: Includes x-rays, dental photography, dental records, and optional cleaning. We'll create a plan to keep your teeth healthy for many years. 
Limited Focused Exam: Relieves a dental emergency, such as a broken tooth or toothache, or checks on a specific dental concern. Your dentist will find the source of the problem and recommend a solution.
Children's Dental Checkups
Happy Visit: For children under 12 years old, we perform an exam, cleaning, necessary scans, and a fluoride rinse to protect their teeth. We'll entertain them with our treasure chest. We'll avoid any treatments that could cause pain, because we want to help them build the habit of visiting the dentist!
Gum Therapy
Comprehensive Gum Evaluation: During every exam, we'll check that your gums are healthy and disease-free. 
Gum Therapy: We rid your gums of infection through several state-of-the-art techniques. With twice-yearly dental cleanings, we can help prevent gum infections from ever occurring. 
White Fillings
We use new types of filling material, which can strengthen your teeth. We also use better filling techniques to protect your teeth and create a lasting filling. Plus, we'll match the color of your tooth to make your smile look natural.
Dental Crowns
We can cover, reinforce, and protect a tooth with a dental crown, which is a new tooth cap. This can fix a cracked tooth, protect a tooth after a treatment, or restore a tooth that is cracked, worn, or discolored. Our crowns are made of top-quality porcelain. 
Onlays and Inlays
You can think of an onlay or inlay as a cross between a crown and a filling. For certain types of damage to your tooth, we'll make an inlay or onlay. It will fill the damaged area but also will lay on top of your tooth, creating a long-lasting solution.
Bridges
If you're missing a tooth, a bridge can hold a replacement tooth in the socket. A bridge is attached to the teeth on either side of the socket. It may be the right tooth restoration option for you if you want to avoid an implant.
Dentures
Full Dentures: Replace an entire row of teeth with removable dentures. 
Partial Dentures: Replace just some teeth with removable, smaller dentures. 
Implant-Supported Dentures: Replace a row of teeth with dentures that snap onto implants placed in the jaw, making them extremely stable and comfortable.
Immediate Dentures: Temporary dentures used immediately after a surgery.
Root Canal Treatment
When a tooth is in pain, it is sometimes caused by an infection in the root canal—which is a chamber inside the tooth. During a root canal treatment, your doctor will clean out the infection and then protect the remaining tooth structure using a crown. 
Call Nixa Smiles for Family Dental Care
Whether you need a routine exam, cleaning, or restorative services like dentures, we are happy to see you or anyone in your family. Call Nixa Smiles today for caring dentistry in a stress-free setting. Be a part of our family at Nixa Smiles!